Superior Metal Roof Installation in the Carolinas and Georgia
The weather in the Carolinas and Georgia area can be unpredictable at best, with downpours that batter shingles and wind gusts that pull them off. One of the best ways to protect your roof against sun exposure damage, high winds, and harsh weather is to start with a material that's built to withstand it from the start: metal.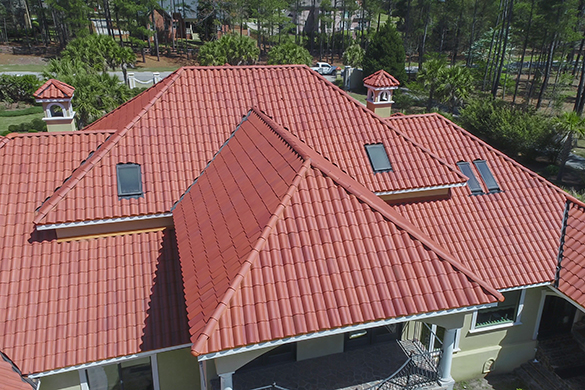 Investing in a metal roof installation means never having to worry about finding shingles in the yard again. A material that provides the same dependability as asphalt roofing products with a comparable lifespan, metal roofing is a popular choice among smart southern homeowners.
Top Reasons Why You Need to Consider a Metal Roof
If you'd like to cut maintenance and utility costs for your home while maintaining an aesthetic exterior, consider getting a metal roof. Here's what it can offer to your property:
30+ years of performance
Lightweight compared to asphalt, putting less strain on your home's framework
Snow and ice melt more easily in sunlight
Can't rot, mold, mildew, or become insect-infested
Fast, easy installation process
Quick and Efficient Metal Roofing Installation
While we take pride in every roof we install — or service through our Roof Maintenance and Re-Roofing Services — our metal roofing products are the ones we're especially proud of.
At ICS, we utilize the SSH MultiPro Roof Panel Machine by New Tech Machinery that allows us to quickly and efficiently install new metal roofing on our clients' homes, giving them the results they need without the noise and debris typically associated with metal roof installation. This innovative machine allows us to combine the best installation experience with the best metal roofing materials. Our customers deserve nothing less!
Get a FREE Metal Roofing Quote
International Construction Services has been installing metal roofs in the South Carolina, North Carolina, and Georgia area for years, with a long list of satisfied customers to prove it. If you've been thinking about investing in metal roof installation, we'd love to talk to you about your needs, make some recommendations, and even give you a pricing quote that fits your budget. If you're ready to move beyond shingles and asphalt and into a premium metal roof, we're ready to make it happen.
Give us a call today at (803) 699-5106 if you live in Greenville, SC, Columbia, SC, Augusta, GA, or in any of the surrounding areas. For Raleigh, NC, homeowners and those in nearby communities, feel free to call us at (919) 322-5114. You can also complete our contact form, and we'll get in touch with you right away.