Keep Your Greenville, SC Home Protected from Damaging Storms
Once the storm clouds have rolled on and the swampy, squishy expanse of your front yard finally dries out, you're left with a pressing issue: roof storm damage to your South Carolina home. While our region might not get as many massive snowstorms as our northern neighbors, the torrential downpours that sweep in every summer are more than enough to push your roof shingles to their limits and beyond.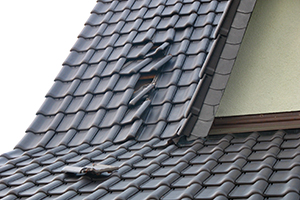 After a particularly aggressive storm season, it's not unusual for homeowners to find missing or broken shingles beneath gutters or to notice the stomach-dropping presence of a leak inside the home. If you're among these homeowners, there's good news: storm damage roofing is one of our specialties. International Construction Services, inc. is only a phone call away with the peace of mind you deserve.
Signs You May Have Roof Storm Damage
It's not always easy to spot roofing damage; they can be as obvious as missing shingles, but they can also be as trivial as holes in the underlayment. Here are some of the red flags to watch out for after a storm:
Visible gaps in your roof shingle overlay

"Peeling" or buckling of shingle edges

Jagged or broken corners on individual shingles

Interior ceiling water damage or accumulation

A sudden musty or mildew odor after heavy rains

Visible mold or mildew inside your home

Excessive granule loss at the base of gutters
What It Means to Restore Your Roof After a Storm
A storm-damaged roof restored to working condition isn't just a way to safeguard the "curb appeal" of your home; it's an important step to protect the health and well-being of you and your family. Leaks from a roof damaged by storms in the Carolinas and Georgia can cause water to pool out of sight, allowing mold and mildew to grow and potentially aggravate allergies that can cause illness.
In addition, wood and drywall compromised by leaks can make it easier for insects and rodents to invade your home. Storm damage roofing and repairing your home after a storm helps keep these unpleasant possibilities at bay, allowing you to spend quality time inside your home without worry.
Reverse the Roof Damage
Have you noticed storm damage on your roof, but aren't sure what to do next? International Construction Services, Inc. offers more than two decades of experience repairing and replacing damaged shingles, as well as providing high-quality, efficient service to restore your roof quickly after a powerful storm.
Don't let storm damage rain on your parade — contact us for a roof repair quote for your home. If you live in Columbia, SC, Greenville, SC, Augusta, GA, or in any of the surrounding communities, give us a call at (803) 699-5106. If you live further north through Raleigh, NC, and the nearby regions, you may reach us at (919) 322-5114.
You can also accomplish this contact form to get in touch with us and schedule an estimate. We're ready with solutions to "turn back the clock" and give you a beautiful, functioning roof again.