Your roof is one of the first things visitors see when they stop by—it defines the style of your home, protects the interior, and safeguards your foundation by directing water runoff and debris from nearby trees. If you aren't sure what type of roof you'd like for your home, International Construction Services has an exciting option with the beauty and durability you've been looking for—metal roofing for your home. Available in a range of styles, ordering metal roofing installation from ICS comes with the same commitment to quality and service as their traditional shingled roof installation, with the added benefit of increased longevity and a premium "curb appeal" that's hard to beat.
What Are the Benefits of a Metal Roof?
Installing a metal roof on your home will mean enjoying a roof lifespan that's comparable to most architectural asphalt shingles. Metal roofs also reflect the sun's heat rather than absorbing it—a handy feature that can drive your HVAC usage down by up to 20%, particularly in the summer.
Metal roofs, due to their interlocking installation process and durable materials, will not peel, crack, chip, or lose shingles, even when faced with heavy winds.
Beautify Your Home with a New Metal Roof
If you are considering a metal roof for your home, you have made a great choice! Prices for metal roof installation will vary depending on your home's size and the type of metal roof you select. The best way to get a customized quote is to contact ICS directly to speak to one of our knowledgeable team members.
Keep your home looking good and feel great about it with a metal roof upgrade.
Types of Metal Roofing Available include: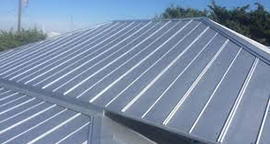 Interlocking prefabricated panels that are similar in appearance to standing seam, but use a crimped connection to create the surface of the roof.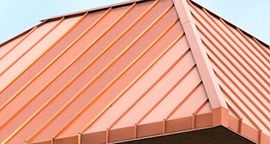 A sophisticated choice that uses the burnished red-gold of copper to elevate your property's look and highlight the architectural features of your eaves.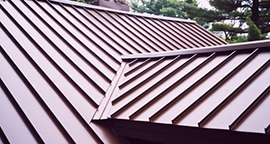 A "plank-like" semi-industrial appearance that instantly adds distinctive style to your home. Blends well with virtually any type or color of siding.