Give Your Home a Facelift With These Exterior Stone Choices
International Construction Services, Inc. believes that the outside of your home should be as beautiful and welcoming as the interior. For a durable, elegant look around your home's perimeter, we recommend exterior home stone features that accentuate every angle.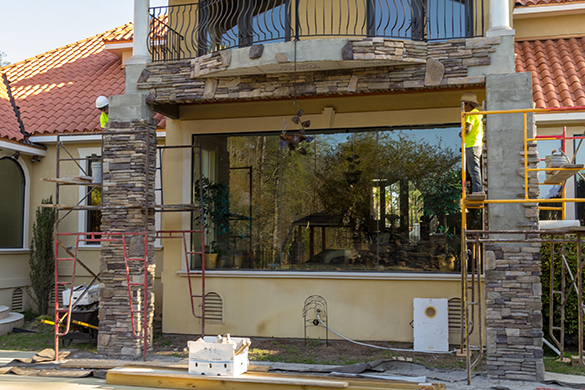 In addition to the dedicated craftsmanship and customer service that defines our brand, we've also partnered with a variety of high-quality stone manufacturers to give you a wide range of choices in color, shape, material, and more.
ProStone – An industry leader in affordable stone veneer products, ProStone products require no sealing or painting, making them a wonderfully low-maintenance choice. In addition to their consumer-friendly styles, they are also the only GREENGUARD-certified veneer product in the industry, and they are crafted with 54% pre-consumer waste stream material. ProStone stone veneers from ICS come in gorgeous finishes as well, such as the refined Tuscan Cobble, classic Fieldstone, and rustic River Rock.
Horizon Stone – With an impressive catalog of stone styles, colors, and matching accessory pieces, Tennessee-based Horizon Stone is an excellent source for your exterior home stone needs. ICS proudly carries Horizon Stone products to beautify your home's facade, install exterior accent features and provide you with time-tested products that will keep your home looking attractive, year after year.
Heritage Stone – For a truly natural look, Heritage Stone uses stone-crafted molds that provide a palette of natural beauty and shapes, producing more than a thousand unique stones for each project without repetition. The result is a tapestry of stone that looks, feels, and performs like natural stone while keeping an affordable price tag. Ask an ICS team member about using Heritage Stone for your exterior facade!
Invest in the curb appeal and visual value of your house today and reap the benefits in the future. Exterior stone is the timeless, affordable upgrade your home deserves.
No matter what size, color, or style you have in mind for your exterior home stone needs, we're here to help you find the perfect match and deliver an efficient, professional install at your location.
Contact us today to discuss your needs! If you're in Greenville, SC, Columbia, SC, Augusta, GA, or in any of the nearby communities, you may reach us at (803) 699-5106. For Raleigh, NC, homeowners and those in the surrounding areas, simply call us at (919) 322-5114.
You can also get a free estimate by filling out our contact form. We'll be happy to offer exterior stone installation recommendations for your South Carolina, North Carolina, or Georgia area home.