Custom Exterior Stone Columns for Your Greenville, SC Home
Dramatic and unforgettable, stone columns are the exterior features your home needs to stand out and make a statement. From smaller, more rustic styles for visual balance to taller, more stately versions that draw the eye up and make your home look more impressive, columns are the perfect accent for adding curb appeal.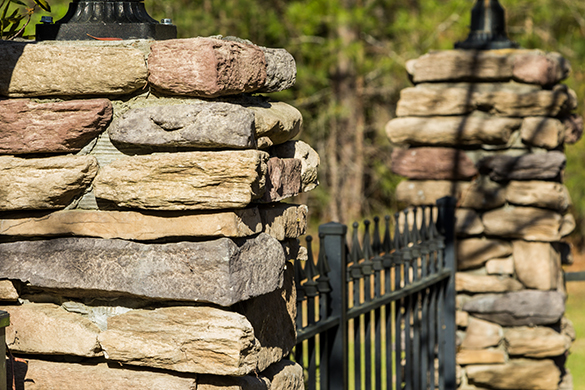 International Construction Services, Inc. is proud to offer stone column consultation and installation for your South Carolina home. We have partnered with several premier stone manufacturers to give you a wide variety of high-quality options for your columns.
Are Stone Columns Right for Your Home?
If your home's exterior is feeling a little uninspired or plain when compared to your neighbor's home, or if exterior areas like a porch or patio aren't clearly defined, stone columns are an excellent way to set off these areas while adding some beautiful decor in the process. Unlike some exterior home accessories, stone columns are built to last for years, ensuring that your new visual upgrade will still coax admiring glances from potential home buyers down the line.
Need to know if your land can support the weight of a stone column and what height or width is ideal for your home's structure? Our dedicated team at ICS will be happy to discuss your needs and assess your placement for you.
Boost Your Curb Appeal With Stone Columns — Without Breaking the Bank
Adding stone columns to your house is a surprisingly affordable upgrade choice. Prices will naturally vary, based on variables such as stone choice, column size, and whether any prep work is needed to safely install your new columns. We can work within your budget and offer you a variety of stone and column size choices at every price point, ensuring you get both quality and expert guidance.
If you're considering adding a pair of columns – or more! – to your home, all it takes is a single phone call to ICS to beautify your home's exterior silhouette. If you've always wanted columns but weren't sure how to add them, there's never been a better time to explore the possibilities with the ICS team.
Ready to spruce up your home's exterior? Contact us today! To get a complimentary quote, simply call us at (803) 699-5106 if you're in Greenville, SC, Columbia, SC, Augusta, GA, or in any of the surrounding communities. For Raleigh, NC, residents and those in nearby regions, you may reach us at (919) 322-5114. You also have the option to complete our contact form, and we'll be happy to assist you. Our team is ready to support your search for the perfect columns!