International Construction Services is proud to announce we've added a comprehensive range of stone masonry to our portfolio of roofing installation and maintenance services. We've mastered the art of adding function and beauty at the roof line of your South Carolina home, and now we're a one-stop solution for Outdoor/Indoor Fireplaces, Stone Columns, and Exterior Stone as well. We've partnered with premier brands like Pro Stone, Heritage Stone, and Horizon Stone to give you incredible style, color, and texture options for your stone accent needs. From river rock to field stone, we have it all, along with a dedicated installation team to make it your own.
Stone Accents for Your Home Include:
Exterior wall stone facade textures
Attractive stone accent columns for curb appeal
Indoor/outdoor stone fireplaces for socializing
Stone facade border walls for your patio or garden
Decorative porch or patio masonry
Accent walls with stone textures, indoors or out
What Are the Benefits of Stone Masonry?
Molded stone and stone facade products are faster and easier to install than their whole-stone counterparts and are typically more affordable as well. They also offer the same weather resistance and longevity, so it's a very beneficial accent choice for a homeowner looking for something a little different. Stone masonry adds a dramatic flair to any home and can make both bold style statements or more subtle ones, depending on how and where it's installed. If you're not sure what designs would work for your home, an ICS team member can offer suggestions based on your home's layout and color palette to simplify your decision-making process.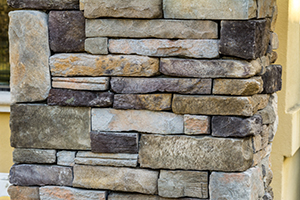 Add Beauty to Your Home with Stone Masonry
At ICS, we offer free quotes for any kind of stone masonry your South Carolina, North Carolina, or Georgia area home may need. Just let us know the square footage of the installation area and what style of stone appeals to you—we'll handle the rest!
Whether you have a vision in mind or need to work within a home improvement budget, we're happy to be your source for high-quality, durable, and beautiful installed stone masonry. Call ICS today at (803) 699-5106 to discuss your home's stone masonry needs. A friendly team member is standing by to assist you!