Fall has officially arrived in South Carolina, North Carolina, and Georgia and with it, the mild autumn weather we're all looking forward to. However, with occasional high winds and debris caused by falling leaves this season, it's still a must to prepare your roof for the coming months ahead to avoid any potential issues down the road and keep your home comfortable all year round.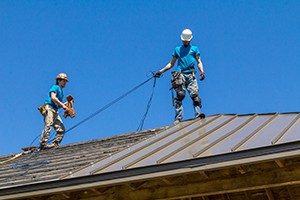 Preparing your roof with excellent fall roof maintenance is important to make sure it effectively does its job of protecting your home throughout the winter months. International Construction Services, Inc., your go-to residential and industrial commercial roofing contractor in the region, shares a few fall roof maintenance tips and tricks to get you started and save money on future repairs.
Clear out the gutters. Gutters are responsible for directing water away from your home. If they're damaged or clogged, they may not function properly, resulting in leaks and water backing up and seeping in beneath your roof. Overflowing water may also run down to the home's foundation, causing paint damage. Ice dams aren't a common sight in the South, but they can also pose a threat to roofs. Keeping the gutters clear of leaves and debris will prevent the buildup of ice and snow if a winter storm occurs.
Trim nearby tree branches. When tree branches are whipped by a strong wind, they may break and fall onto your home's roof. This can cause significant damage, including cracked shingles and water leaks. Overhanging limbs can also drop leaves and pine straw onto your gutters. Avoid this by trimming tree branches that are hanging over the roof. If you don't feel safe doing so yourself, you can always turn to a roof replacement and repair expert to assist you.
Schedule a roof inspection. Professional roofers have the training and experience required to spot issues you might miss yourself and perform any repair job effectively. Ideally, roofs must be inspected at least once a year. Experts will take a close look at the materials, flashing, gutters, and valleys to check for leaks and other problems. As necessary, they will perform repairs and alert you to issues that can wait until spring.
Mind the attic. Attics that are not adequately ventilated or insulated may cause mold and mildew formation, and they're a potential spot for roof leaks. When checking the attic, look for signs of water damage, rot, and mold. It also helps to look for light shining through the roof as well, as this may mean your shingles have holes and gaps. Quickly fix any gaps or leaks and consider insulating if you haven't already.
If you need roof repairs, replacements, or even new construction roofing installation, you can always turn to International Construction Services, Inc.
For over 25 years, our locally established roofing company has been a part of the South Carolina, North Carolina, and Georgia communities, offering topnotch residential and commercial services from installation to maintenance. Call (803) 699-5106 to schedule an appointment or fill out our form to talk with our friendly and professional staff.