Even when a storm comes without rain or hail, your South Carolina and North Carolina roof can still get damaged. According to the National Oceanic and Atmospheric Administration (NOAA), South Carolina and North Carolina are among the 10 states hit the hardest by different types of storms and high winds. Powerful high winds can produce stress points on roofs, causing them to weaken and become compromised eventually.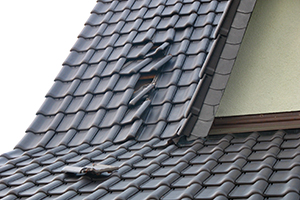 While most roofs are designed to combat strong winds, they can be significantly damaged over the years by the inevitable physical impact and debris carried by the wind. Replacing broken or missing shingles, as well as repairing damaged areas as soon as possible, is important in preventing major water damage and high energy costs that will inevitably come from a roof that is not performing as it should. Discover different ways wind can damage your roof — and ways to prevent subsequent damage — from one of the area's leading tile roof repair and replacement companies, International Construction Services, Inc.
How to Identify Wind Damage
The most obvious type of roof damage caused by winds is shingles being blown off the roof deck. Missing and dislocated shingles mean your roof is susceptible to moisture, which can lead to more significant water damage in the near future. While missing shingles are relatively easy to spot, a damaged adhesive seal might be harder to discover. Failing to repair or replace this leaves your roof's water-shedding protection at risk.
Here are other common signs of wind damage indicating that you need to get the best roofer for your needs immediately:
Cracked, torn, or curled shingles
Debris on your roof
Asphalt granules in the gutter
Stains and peeling paint on walls and ceilings
Water spots or mold in your attic
Dented or loose gutters
If you have experienced a storm with powerful winds or see any missing shingle spots on your roof, schedule emergency roofing services with International Construction Services, Inc. today.
What to Do When Wind Damages Your Roof
If your South Carolina or North Carolina roof has been damaged by wind and/or flying debris, it's important to get it repaired right away. Take it from us — the longer you wait, the more damage will occur on your system.
Roof replacement and repair costs are significantly lower when you don't have to add in the additional costs of fixing leaks and other types of water damage. Reach out to your trusted roofer and insurance agent to assess the situation and determine whether you should file a claim.
Thoroughly document any damage that occurred by photographing them and keeping them in a portfolio. It's also important to keep receipts for all work involved, including any DIY task, such as covering windows or holes in your roof, to properly facilitate reimbursement when you're filing a claim. Most of the time, insurance policies will cover these expenses when a claim has been submitted.
If your South Carolina roof has sustained wind damage and you're searching online for "roof replacement near me," you can get in touch with the experts at International Construction Services, Inc. 
We'll provide you with top-notch inspection, repair, and replacement services, on top of free roofing quotes. To get started, simply call us at (803) 699-5106 or complete our contact form. We'll be ready to assist you.