Installing a new roof can dramatically change the way you look at your home. This is because the roof is one of the largest parts of your home's exterior, representing up to 40% of its overall curb appeal. That said, getting rid of a worn-out roof and replacing it with a new, stylish one can make your home stand out among others in your neighborhood.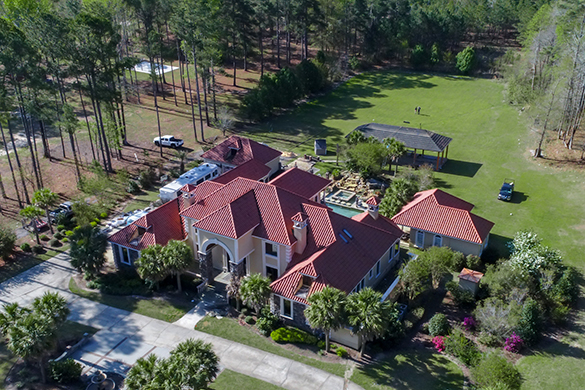 Before purchasing a new roof, however, you need to take a lot of things into consideration. One of them is your home's architectural style. Most of the time, various home styles go well with a specific roofing material, making them a significant factor in determining which roofing type to get for your upgrade. International Construction Services, Inc., the premier residential and commercial roofing contractor in the region, shares four roofing types that best match some of the most popular home styles.
Asphalt Shingles for Tudor Homes – Tudor homes showcase a stunning combination of architectural symmetry and prime materials. Designed originally based on English country cottages, these homes come with arched entrances and intricate half-timbering. With decorative trim already present, a simple yet elegant-looking asphalt shingle roof can balance its exterior appearance. More than just a crowd favorite, an asphalt shingle roof offers a wide range of benefits such as innate durability and versatility in terms of colors and textures.
Metal for Cottage Homes – Cottage-style homes are prominent in many regions across the country. Often smaller than most home styles, cottage homes feature a large front porch, finished woodwork, and built-in display storage. A knowledgeable roofing company will typically recommend asphalt or wood shakes for these homes, but metal roofs also go perfectly well with them, as metal offers superior insulation and protection against the elements. The beautiful and sleek appearance of metal roofs also helps ramp up the aesthetics of cottage homes.
Tiles for Mediterranean Homes – Mediterranean homes combine the exquisite features of Spanish, French, and Italian architecture, making them one of the most stunning home styles out there. Clay and concrete tiles are ideal for these homes, mainly because they bring balance and harmony to the existing home details. On top of being visually appealing, clay and concrete tiles also perform greatly under harsh weather conditions.
Wood Shakes for Craftsman Homes – Natural themes are evident in Crafstman homes; that's why they will benefit a lot from the looks conveyed by shakes made from renewable, natural wood. With proper maintenance, wood shakes can protect homes from the elements and retain their timeless charm for years.
Looking for the best roofing type for your home? International Construction Services, Inc. can help you make the right choice. We offer a wide range of roofing types, including asphalt shingles, metal, tiles, and wood shakes, that can suit many different architectural styles. Our design specialists will examine your home and recommend the best type for your existing design and preference.

Aside from roof replacement, we also offer other roofing services, such as roof maintenance and emergency roofing repair. To schedule an estimate, simply give us a call at (803) 699-5106 or fill out our form today.