Yes, the stories you've heard about storm chasers and their shady activities are true. In most cases, fly-by-night contractors like them drive around neighborhoods after powerful storms, with plans of preying on unsuspecting homeowners. They may point to obvious issues — broken shingles and gutters here, fallen branches there — to fuel their actions, but the results are always the same: money is paid for a deposit or "upfront" cost for shabby or unfinished work.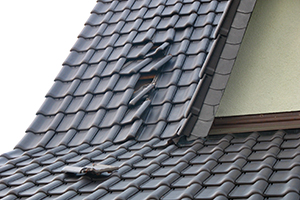 Urgency and pressure to fix your roof immediately can make you less careful when it comes to finding help. And some roofers aren't shy to take advantage of such situations. To help you prevent storm chasers, International Construction Services, Inc., one of the top local roofing contractors, talks about their activities and what you can do to avoid them.
What are Storm Chasers, Anyway?
Storm chasers are contractors who approach homeowners after a huge storm has passed the area. These so-called "roofers", typically from out of town, don't carry proper licenses and lack the sufficient skills to deliver quality roof repairs. They circle neighborhoods and, once they found a target, will come directly to the homeowner, claiming they noticed damage on the roof. Now, this may sound enticing, but it's not worth the risk.
Storm chasers will point out bona fide damage and offer to repair it — for cash or through insurance claims. Either way, if the homeowner agrees, the scammers win. They will take the money with no guarantee on the repair. When insurance is involved, they will collect payment and provide substandard service, leaving the homeowner with higher premium payments afterward. Not only does the homeowner lose money; he also suffers from low-quality repairs that won't protect his family and belongings.
How to Avoid Roofing Scams
While it may be true that your roof needs a fix-up, remember one thing: reputable roofers don't have the time to be driving around and asking people for their business. They are already busy replacing damaged shingles and providing quality work to clients.
Here are ways to protect yourself from roofing scams:
Check online reviews first. A legitimate and trustworthy company will have some online presence with reviews. In addition, it pays to check their rating with the Better Business Bureau (BBB) and see if they have received any major complaints.
Ask for their licenses and insurance. Any time you're getting work done on your home, be sure to always hire a licensed and insured contractor. This way, you're making sure that you're working with a law-abiding company and that they will sufficiently cover any damage on your property.
Verify where their office is located. If their main office is located in another region, consider it a red flag. They are likely here for just a short period to get some quick business and move on.
International Construction Services, Inc. is a full-service construction company that offers both roof repair and replacement. We have been servicing local homeowners and business owners for over 25 years. Whether a recent storm has left some damage on your system or you want to install a new contemporary metal roof, we've got you covered.
Give us a call at (803) 699-5106 or fill out our form today, and our specialists will guide you to the right roofing solution.