If you need to get a replacement for your old roof, it may be a challenge to pay for the job out of pocket. According to Home Advisor, the average cost of a new roof is $9,000 USD, and it's possible that you'll spend more based on various factors. While the most straightforward way to finance a full roof replacement is through cash, not everyone has the savings to cover this significant amount.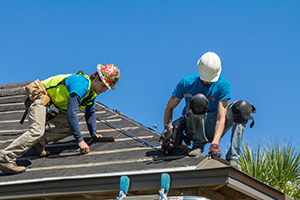 If this is the same as your situation, there are many ways you can secure loans or payment plans to finance your upgrade, regardless of your credit standing. Some contractors offer financing plans. It's also a good idea to apply for a government or home equity loan. In this post, International Construction Services, Inc. shares X recommended avenues of financing a new roof installation.
Why Estimates are Important
Before starting your research about your financing options, you have to make sure that you will actually require financing by acquiring roof replacement quotes from multiple contractors. It's best to contact at least three or four reputable roofers in your community – most of them will give you a free roof estimate. Once you have an idea of the possible project cost, from materials to labor and cleanup, you can proceed to review different financing options to see which of them will sufficiently cover the expenses.
4 Ways to Finance Your New Roof
Let's discuss a few financing options in detail so you can decide which one works best for you:
Homeowners Insurance Policy. Determine if your homeowner's insurance policy or any limited warranties provide coverage for your worn-out roof. If insurance does cover parts of the total roof replacement cost, then you won't be needing much bigger financing from other sources.
Home Equity Line of Credit (HELOC). If you do not have a good credit standing in general or wish to minimize your interest rate, you may want to consider getting a home equity line of credit. In most cases, homeowners are able to negotiate lower interest rates by using their houses as collateral. However, to take full advantage of this financing option, you must have some equity built up in your home.
Personal Line of Credit. One of the smartest ways to finance a roof replacement project is to open a personal line of credit. This option usually offers lower interest rates compared to credit cards and often requires low monthly payments.
Credit Cards. While many contractors accept credit card payments, you should be highly cautious when placing a roof replacement service on yours. Credit card payments typically involve high interest rates, so it's best to study their pros and cons first, before making a decision.
When it's time to get a new roof, don't delay and put your home at further risk. Turn to the pros at International Construction Services, Inc. and promptly get the help you need. As a trusted residential and commercial roofing contractor, we provide South Carolina homeowners with high-quality upgrades that make them love their property all over again. To request a free estimate and discuss your options, give us a call at (803) 699-5106 or complete our form today.