It's important to repair damaged roofing as soon as possible. The problem is, by the time most homeowners realize the need to fix leaks and attend to other warning signs, it's already too late. While it's naturally impossible for an average homeowner to detect the slightest signs of damage, some choose to brush the biggest ones off — even when they are in plain sight. Why? Because of certain myths about roof storm damage.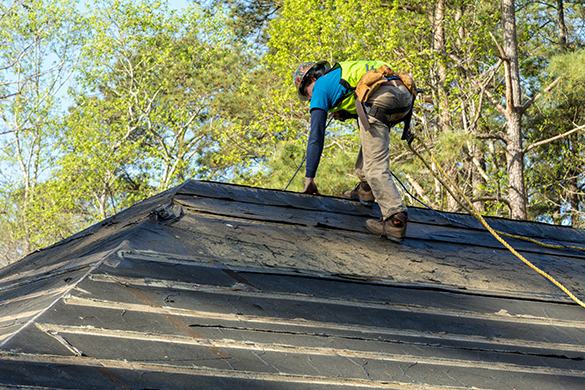 In this article, International Construction Services, Inc., one of the leading local contractors for residential and industrial commercial roofing, lists down X storm damage myths that homeowners need to stop believing.
Myth #1: "The shingles are complete, so my roof isn't damaged."
This is perhaps the most common misconception homeowners have about their roof. Just because there aren't any shingles missing or you don't see any visible damage, it doesn't mean your roof is safe from storm damage. The recent storm may have caused underlying problems that an untrained eye can't see, so make sure to have an expert inspect your entire roofing system after severe weather hits your area.
Myth #2: "My roof is new, so any damage should be covered by the manufacturer."
This is a pure myth, as most roofing manufacturers and contractors identify hail and storm damage as conditions that may void the warranty. When this happens, any roof replacement or repairs that must be done will have to come out of your own pocket.
Myth #3: "I don't have to file a claim since the damage is just minor."
Any damage that your roof sustains during a storm, regardless of its extent, is grounds for a legitimate insurance claim. If not, undetected storm damage can cause your roof to leak and wreak havoc in your home. Unsure how to file a claim? The experts at International Construction Services, Inc. can assist you in working with your insurance company and meet with your adjuster. This way, you can increase your chances of reaching a settlement that will comprehensively cover your costs.
Myth #4: "My premiums won't increase if I don't file a claim."
Most homeowners believe the previous myth because of this reason. Whether or not you file a claim, your insurance company may increase your premium rate, especially after a storm hits. The frequency of filing your claims doesn't really have anything to do with annual premium increases. Additionally, if you fail to file a claim even if you have a legitimate reason to do so, you may end up paying for other policyholders' claims.
Myth #5: My insurance company will cancel my policy if I file a claim."
Contrary to this belief, insurance providers don't have the power to cancel policies if the premiums are paid on time. In fact, it is illegal to cancel a policy simply because you filed a legitimate claim after a storm.
Always turn to the experts when dealing with these kinds of situations. At International Construction Services, Inc., we offer top-notch roof replacement, repairs, and new construction roofing services to make sure your roof will continue to protect you. To schedule a consultation and estimate, give us a call at (803) 699-5106 or fill out our form today.