Just like homeowners, commercial property owners are tasked with a big responsibility when they purchase a building. Once they own a business establishment, they are responsible for the care and maintenance of every part of their investment, from the HVAC systems to the facilities. The roof is an integral part of a commercial building. Still, many times, it is overlooked by owners because it's not something they see every day or they simply don't know anything about roofs.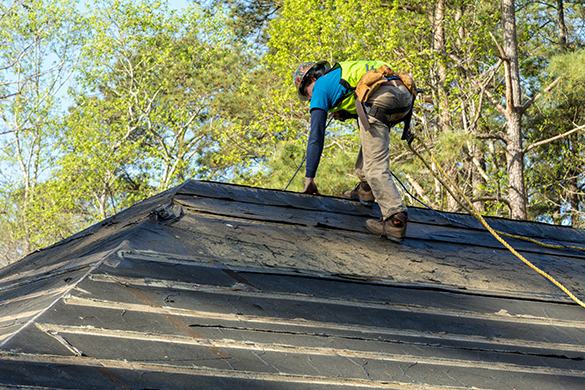 When it comes to their roof, many commercial owners lack general knowledge of routine maintenance and repairs and often have questions. International Construction Services, Inc., your premier contractor for commercial roof repairs and replacements, answers the commonly asked questions about commercial roofing systems.
Question #1: Does a leak mean I need to install a brand-new roof?
Probably no. A leak is a sign of damage to your roof and needs to be addressed as soon as possible to minimize problems in the long run. Depending on the extent of damage and the length of time water has been present in the commercial roof sheets, it may be necessary to replace the entire roof. However, that is rarely the case. The best way to find out if the leak has progressed to the point of needing a new commercial roof system is to schedule a professional inspection as soon as possible.
Question #2: Can I install new roofing on my own?
The short answer is no. In the age of DIY videos and article guides, many commercial building owners are inspired to do their own maintenance — and even installation — work. However, installing a roof is a much more complex and hazardous process than simple repairs. In order to end up with industrial roofing that is installed properly and will last for years to come, it is necessary to call an expert contractor. While this is an upfront expense that business owners have to pay, in the long run, they will most likely save money on repairs stemming from an amateur and potentially damaging roof replacement or installation job. These types of issues will often surface very quickly, leading you to spend renovation money prematurely.
Question #3: Can I re-roof without getting rid of my old commercial roof?
It is possible to install a new system without tearing off the existing one if you have only one roof in your building. That said, if your structure already has two roofs, then you would have to get rid of the old one, as commercial buildings are not allowed to have more than two roofing layers according to the law. Also, if your existing roof is severely damaged or unstable, your contractor will have to tear it off before installing a new system.
Question #4: How long does it take to install a new commercial roof?
The time needed to complete a commercial roofing project depends on multiple factors, including the size of the building, type of roof, existing damage to the sheets or layers, inspections, weather, and permits. Each job is unique and could take from a few weeks to even months.
Find yourself searching for "trusted commercial roofers in my area"? You've come to the right place. International Construction Services, Inc. is the trusted name for quality commercial roofing in Columbia, SC, and the nearby regions. Call us today at (803) 699-5106 or complete our contact form to schedule a free consultation.