Metal roofing has become more popular in the United States than it used to be. How many times have you spotted a metal roof as you were driving through your neighborhood? Why has your neighbor picked this roofing type and will this also match your home? The answer is probably yes.
Whether you're building a new home and haven't yet chosen a roof that works perfectly with your design, or it's time to get a replacement and you want to explore all your options before you purchase one, we've got you covered. International Construction Services, Inc., the leading roofing and construction company in the region, gives you a rundown on the most important things you need to know about metal roofs.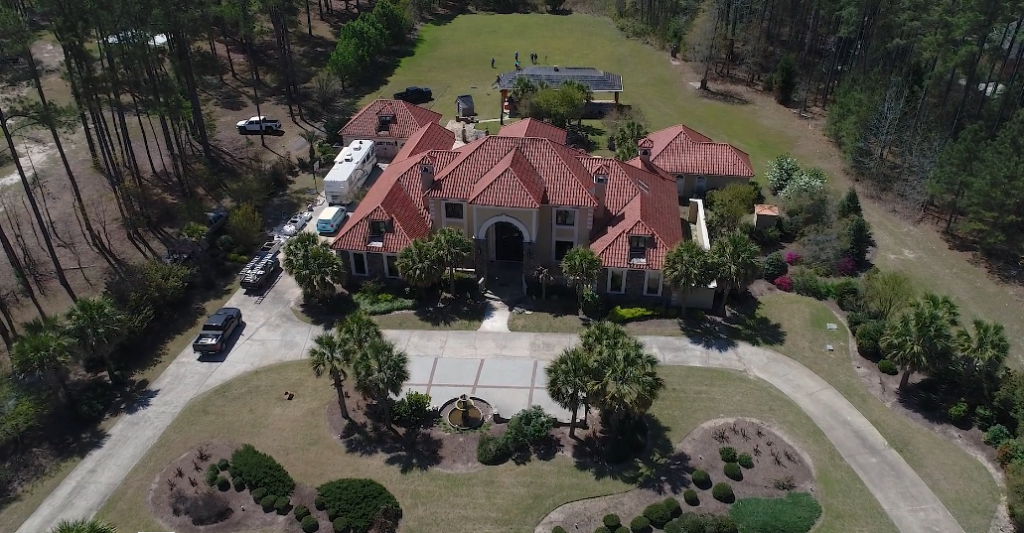 First Things First — What is a Metal Roof?
Put simply, a metal roof is a roofing system constructed using metal panels, tiles, or pieces. It is popular among both residential and commercial building owners mostly because it provides outstanding resistance to weather and offers high levels of energy efficiency. It also contributes greatly to structural support and is a significant contributor to the overall aesthetic appeal of a home or building.
Cost vs. Benefits of Metal Roofing
Metal roofs are slightly pricier than other basic options, but it's an investment that will truly make an impact on your life as a homeowner. There are numerous ways your home, family, and savings can benefit when you decide to make the switch to metal.
Cost: The average cost of installation per square foot of metal roofing is anywhere between $5 to $14, while the national average cost of a new metal roof is $26,682. It may vary from $9,545 to $43,819, depending on the size, style, and other requirements.
Benefits: There are plenty of reasons why you should choose metal roofing for your next roof upgrade. Some of the biggest benefits are:
Long-term savings – While the initial cost is more expensive compared with other materials, metal roofs can save you thousands of dollars in several areas, such as longevity, utility consumption, homeowner's insurance, and resale value.
Energy efficiency – On average, new metal roofing can save homeowners anywhere between 10% to 25% on their energy bills. This is because metal panels reflect sun's rays instead of absorbing them, which many other materials do. As a result, heat is directed away from your roof and your home, making your interior cooler and more comfortable especially during summer.
Eco-friendliness – With more and more homeowners becoming conscious of the environment, it's only natural to turn to home features that can help them minimize their carbon footprint. Metal roofing is one of these features. It's typically made from a combination of metals, such as copper, stainless steel, and aluminum — materials that are often recycled and recyclable at the same time. Choosing a metal roof means taking a step forward towards achieving a greener environment.
Aesthetic appeal – In the old days, homeowners shied away from metal roofing because most of these systems often came with a corrugated, commercial-like appearance. Not anymore. Following significant advances in construction technology and building materials, metal roofs are now available in a wide range of colors, styles, and textures that suit any home design. They can even be designed to imitate the look of traditional shingles, ceramic tiles, and even slate roofs. In addition, they no longer stain or rust over time, thanks to their advanced protective coatings.
Minimal maintenance – One of the most long-lasting roofing options out there, metal roofing has an average lifespan of 40 to 70 years. It can offer excellent performance throughout every season and require very little maintenance. Since metal roofs are commonly installed in sheets, there are no shingles to fall off or curl. However, it's still recommended that homeowners schedule regular inspections to make sure their systems are always in top shape.
Common Metal Roofing Materials on the Market
When it comes to installing your metal roof, there is a wide range of materials available for use, and the decision often relies on the exact requirements of your home or building. Here are some of the most common metal roof materials, so you can understand the pros and cons of each one.
Stainless steel – Homeowners and building owners rely on steel mainly because of its strength. They are a popular choice for structures in coastal areas and regions where inclement weather is common.
Copper – Used by ancient people to cover the roof of the Pantheon over 2,000 years ago, copper is recognized as one of the oldest metal roofing options. It is also among the most expensive — yet, many property owners still choose copper accents due to their innate beauty and durability.
Aluminum – As the third most abundant metal on the planet, aluminum makes for an excellent metal roofing material. Not only does it resist harsh weather conditions; it's also considered one of the most sustainable metals in the world.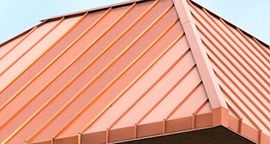 Metal Roofing Styles to Choose From
With the introduction of new roofing technologies, manufacturers continue to come out with a spectrum of unique roofing styles, all made from different varieties of metal. Below are some of the most appealing styles today for many homeowners:
Standing seam metal roofs – While it's among the common metal roofing styles out there, it's not very much known that standing seam metal roofing offers one of the best and most reliable protection for homes. This metal roofing type can last up to 50 years or more, easily outpacing asphalt shingles by a couple of decades. On top of that, standing seam metal roofs are very easy to maintain and come in just about any color you can imagine. Metal roofs were usually reserved for barns and warehouses in the past, but with the clean lines of a standing seam metal roof, this style continues to get much more appreciation among today's homeowners.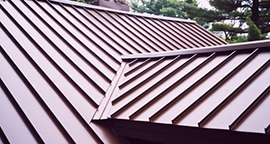 Slate metal profiles – Slate roofs are famous for their grandiose beauty and charm. They are often found on European-style houses, allowing them to highlight their superior aesthetics. The only problem with slates, however, is they are heavy and considerably more difficult for contractors to work with. As a result, they can be much more expensive to install. Fortunately, metal roofing manufacturers have come up with metal profiles that mimic the look of slate roofs, but are much easier to install and cost less comparatively. With this style, homeowners can enjoy the beauty of slate roofing, without putting extra weight on their system or drawing additional bucks out of their wallets.
Shake metal profiles – Have you always loved the rustic look of cedar shakes, but hate how it fades so easily? No worries — there's a metal profile alternative for that! Not only will you get to choose which color to install, but you can also rest easy knowing it will never fade and will last for about two decades longer than a standard cedar shake roof. Shake metal profiles are guaranteed not to rot, be susceptible to pests, and be difficult to maintain, offering all the advantages of cedar shakes minus its drawbacks.
Home Styles that Best Complement Metal Roofing
You may ask professional roof repair contractors, "How do I choose the best roofing style for my home?" The most accurate answer would be to never sacrifice performance for style. This is the reason why metal roofs are a prime choice for homeowners and building owners alike. No matter what style you prefer, metal will surely deliver outstanding performance, protection, and value for your property.
While metal goes well with virtually any architectural design, they are most beautiful when paired with the following home styles:
Modern – Modern homes are characterized by clean, contemporary aesthetics, and metal roofs add to their sleek look. Standing seam metal roofs, in particular, help accentuate the straightforward and minimalist designs of today's modern homes with their straight lines and smooth finishes.
Craftsman – The traditional Crafstman house is known for its rustic look and artsy feel, highlighted by the use of stylish materials such as metal. As with Colonial-style homes, Craftsman homes are accentuated by their sleek rooflines, with pitched roofs and spacious front porches. Metal roofing that resembles slate and traditional shake complements the organic design used in this type of home.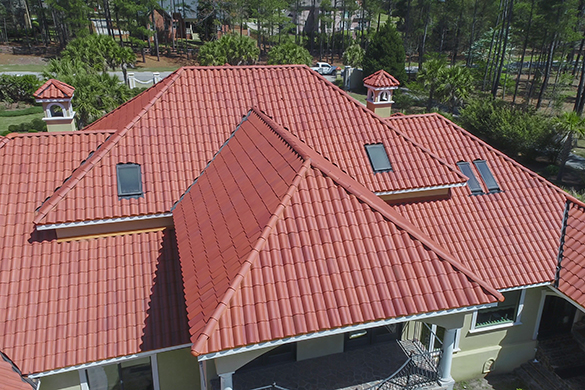 Colonial – Some of the most popular home styles, like Cape Cod, Spanish, and French homes, have their roots in Colonial style. Rooflines play a huge role in their overall appearance and homeowners can achieve an impactful look by picking metal roofing materials that mimic shake and slate, yet are manufactured to be much more durable.
Metal Roofing Myths: Why You Shouldn't Believe Them
Despite the growing popularity of metal roofs, there are still lots of misconceptions surrounding them. So, if you're considering installing a metal roof for your home but are worried about any of the following myths, we're here to assure you that they're just that — myths.
Here's the truth about them:
Myth #1: Metal roofs attract lightning.
Nope! Lightning strikes generally whatever it is closest to. This is the reason why trees and poles are struck the most often — because they are tall. In the event that a metal roof gets struck by lightning, the charge will be dissipated evenly over the panels, effectively minimizing the overall damage. On top of that, metal is non-combustible, which means it cannot burn, unlike other materials, providing your home with sufficient fire protection.
Myth #2: Metal roofs are noisy, especially when it rains.
While this can be true for traditional metal roofs, modern metal roofs are now installed over multiple layers of materials, including roofing felt and a thick layer of sheathing. As a result, homeowners get a well-insulated, waterproof roof that is typically quieter than the standard shingle roof.

Myth #3: Metal roofs absorb heat and make the interior warmer.
As mentioned previously, metal reflects the majority of solar radiation instead of absorbing it. When the amount of sunlight the roof absorbs is reduced, heat distributed into your spaces is also minimized. This is a great help, particularly when cooling your home during hot summers.
Myth #4: Metal roofs drag down the home's curb appeal.
Wrong. Metal roofs are now available in an impressive selection of colors and styles to match your stone, brick, or vinyl siding. They can even resemble the look of many other roofing materials, including wood shingles, shakes and tiles. In addition, they come with extensive warranties that protect against fading, chipping, and rusting, ensuring a beauty that will last a lifetime.
Easy Ways to Keep Your Metal Roof Healthy
The innate durability and low maintenance requirements of metal roofing make it a popular choice among homeowners. However, this roofing type doesn't really come without upkeep.
One of the best ways you can maintain a metal roof is to have it inspected on a regular basis. While metal roofs stand up to harsh weather effectively, the elements can still impact your system as a whole. Call in an expert to examine your roof for leaks and other signs of damage. A professional roofer will be able to spot problems even during their early stages and offer proactive solutions to prevent them from turning into bigger issues.
At the same time, you as a homeowner can take precautionary steps to keep your roof safe from damage. For example, trim branches near your roof to prevent them from falling and causing structural damage to your home. It's also important to keep your gutters clean at all times. Clogged gutters allow water to remain stagnant, causing damage to the edges of your metal roof. If you notice debris collecting in your gutters, be sure to call a pro to clean them out or install gutter guards for an additional layer of protection.
Contact our Metal Roofing Experts Today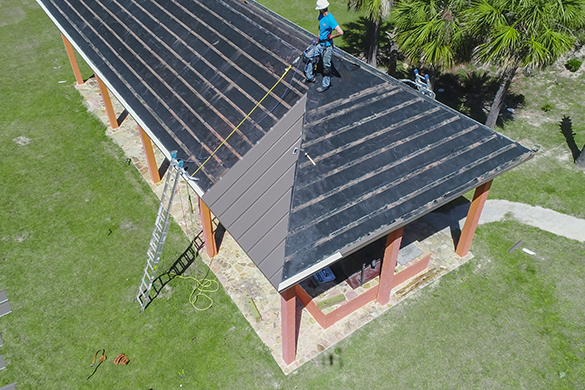 Whether you're planning renovations or constructing a new home, a metal roof can provide long-term comfort, savings, and satisfaction. To explore your options and find the metal roofing that suits your unique needs, get in touch with the professionals at International Construction Services, Inc.
We are the leading metal roofing experts in the region. You can turn to us if you need help with metal roof replacement, repair, installation, and even insurance claims assistance. To get started, give us a call at (803) 699-5106 or fill out our online form. We'll be more than happy to assist you.