Of all the things you do to keep your home sturdy and beautiful, replacing a damaged roof is probably the most important. If you notice any signs of damage on your old roof, it's best to take care of it as soon as you can. Ignoring these issues can result in catastrophic problems from all directions, affecting not just your siding and gutters, but also everything inside your home, even the basement! We're talking mold and mildew, water spots on the ceiling, foundation cracks, and other problems that could affect your home's structural integrity.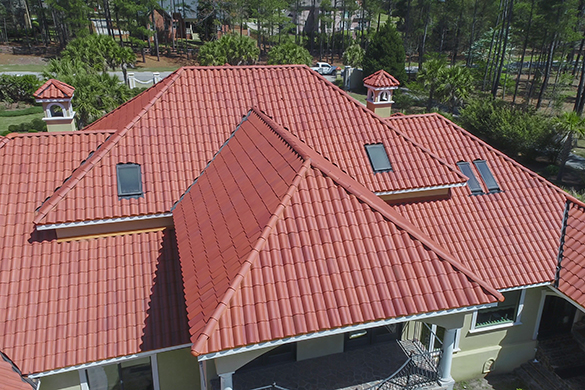 Roof replacement isn't the most exciting home improvement project, but it's the kind of emergency that should never be put on the back burner. To help you navigate your way through it, International Construction Services, Inc., the leading construction company in the region, explains everything you need to know about roof replacements.
Segmented into three main parts, this comprehensive guide provides the basics — from the red flags to watch out for and the materials to consider, to what you should expect with the process, and more.
Part 1: Before the Roof Replacement
You're probably still not that confident about replacing your roof completely. After all, a new roof isn't cheap, not to mention the labor costs involved. It helps to know the following things to help you with the decision process.
Know the Warning Signs of a Damaged Roof
Proof that a new roof is needed is sometimes subtle and happens over time. To prevent headaches and stress in the long run, it's important that you invest in preventive maintenance. But how do you know if your roof is truly due for replacement?
If you're seeing the following red flags, then it's likely that you need to get a new roof.
Missing shingles – Over time, weather elements such as wind, hail, snow, and rain can tear shingles off your roof, creating an entrance for water to penetrate the sheathing layers beneath. This can lead to rots, which can be tricky to notice and repair. If you see missing shingles after a storm, it's best to call in a roofing expert right away to assess the damage and have your roof replaced when necessary.
Lost granules – Weather and time can also cause shingles to shed granules, making them look patchy or bare in spots. Substandard or poorly installed shingles may lose granules faster than normal. These granules are responsible for protecting the shingles and roof, so losing granules on your shingles may result in a premature roof deterioration. That said, you may need a roof replacement if granules start to go missing.
Dark streaks on shingles – Roofing shingles with a dark outline or streaks may look like they are simply covered in dust, but in reality, the streaks are airborne algae. Typically, this type of algae can be removed with a bleach and water mixture, but you should be cautious of damaging your landscaping and siding with bleach. Expert contractors will be able to identify if the moisture is causing damage to the roof and can install a new system if needed.
Aging system – If your roof is repeatedly needing repairs and is over 30 years old, it's probably time to consider a roof replacement. Asphalt shingles usually have a service life of 20 years or more, if maintained properly. Other materials have a longer lifespan, such as metal, which can last for 50 years, and slate, which can last for even a century. It doesn't mean, though, that they won't be needing early replacements. Old roofs that are prone to leaks and rots need a replacement right away.
Top Benefits of a Roof Replacement
Getting a new roof is a big financial decision, which is why some homeowners tend to delay this project and opt for repairs instead. However, when your roof has become too problematic, there is only so much that you can do with quick fixes. Over time, you may spend more on repairs than you could have if you chose to invest in a roof replacement.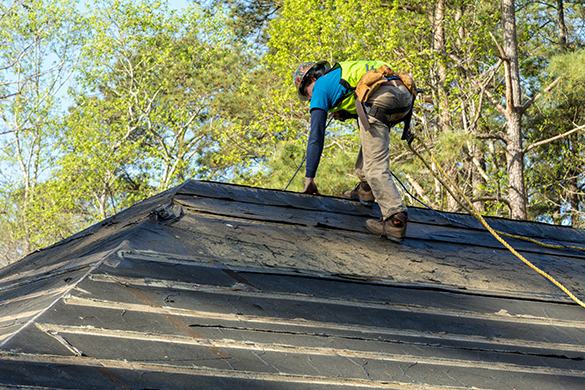 Roof replacement is a long-term decision that will surely pay off in the long run. It offers many benefits, including:
Increased curb appeal and value. Did you know that your roof represents as much as 40% of your home's exterior? If you get rid of your old, faded roof with a new system, you'll be amazed at how much your home will transform aesthetically. An increase in your home's curb appeal also means a substantial boost in your property value.
Improved energy efficiency. Cracks, gaps, and holes on your old roof can result in huge energy loss. To maintain a comfortable indoor temperature, your HVAC systems may need to work overtime, which leads to bigger utility bills. With a new roof, you can be sure that all the openings are properly covered, so all the needed heat stays inside.
Superior durability. Older systems are more susceptible to damage caused by high winds, storms, and hail. Even a small leak on your roof can grow into a bigger problem over time. Installing a new roof can give you better protection against the elements, giving you absolute peace of mind.
Hiring a Roofer: Important Questions to Ask
Before hiring a roofer to install your new roof, there are certain questions you should ask. A poor job can mean costly leaks and repairs in the long run, so you must be picky during the selection process. Be sure to do your research and ask potential roofers the following questions before making a decision:
"Are You Licensed by the State?"
Licensing requirements for roofing vary by state. Ask if the roofer is indeed licensed, and if they answer yes, you can quickly verify with your local licensing offices to make sure the license exists and doesn't have any outstanding violations. Good roofing companies are proud and more than happy to show homeowners a copy of their license for verification purposes.
"How Long Have You Been in Business?"
Five years from now, you want to make sure the roofer will still be there to take care of your roofing investment. Make sure you choose a company that's established and has a reputable history in your region. The longer a roofing contractor has been in the business doesn't make them any better than newer ones; it just means that they'll be around if a problem arises.
"Is Your Business Local?"
Always ask a roofing contractor where their physical office is and make sure they have a local phone number, so you know where to find them in case of an emergency. When you hire a local roofer, you'll be more at ease knowing they are just a phone call away. Not only that; they will also know what local installation codes to follow, the paperwork required, and everything else they'll need to make sure your roof is installed properly and in compliance with your state's requirements.
"Do You Have Homeowner References?"
Any reputable contractor should be willing and able to provide you with a few references of past clients who are willing to speak openly about the work done. You can learn a lot about the contractor, their strengths, their weaknesses, and their basic practices from previous clients, satisfied or unsatisfied. If the contractor you're considering is unwilling to provide you with a set of references, consider this a red flag and walk away before it's too late.
Roofing Materials to Consider
Choosing a material to use for your roofing upgrade is more challenging than you think. There are plenty of options out there, so you may not know which one suits your needs. To help you make a decision, here are some of the top materials to choose from and their corresponding benefits.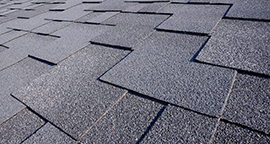 Asphalt shingles – Asphalt shingles come in numerous colors and styles, making them a perfect match for virtually any home style. They are also one of the least expensive materials on the market. Roof repair contractors agree that if you maintain your asphalt shingle roofing properly, you can expect it to last for 20 years or more.
Metal – Metal roofing has advanced far beyond the corrugated tin you may remember from the previous decades. Today's metal roofs are made of zinc, steel, copper, and aluminum, and they are in demand for their durability, energy efficiency, and versatile style. They can be finished in a wide range of colors, designs, and textures.
Wood shakes – Wood shakes offer a natural look to your roof. They are hand-cut from wood blocks and provide a rustic appearance, making them an ideal material for traditional homes like Craftsman and Colonial homes.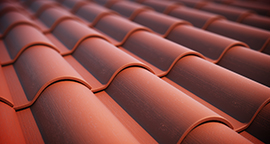 Tiles – Tiles are fantastic roofing choices if you're looking for texture and sophistication. They are heavy, durable, energy-efficient and non-combustible. Tile roofs are flexible enough to complement many architectural styles, but they look best on Spanish and traditional homes.
Part 2: During the Roof Replacement
Now that you have prepared the things you need prior to the replacement process, you now have to get ready for what's coming next during the actual installation.
What to Expect During Your Roof Replacement
The whole roof replacement process can take a couple of days to a few weeks, depending on the project extent. Here's what you can expect during the actual installation day.
Planning the Installation
Your roofer will work with you to find a schedule that works for you and your family. While you're not required to be around during the installation, it can be helpful to remain at home when the project starts. The team will install temporary coverings around your home and landscaping to prevent damage on your valuables. They will also take care of any required building permits, so you won't have to worry about violating regulations or getting charged fines.
Removing Old Materials and Installing New Ones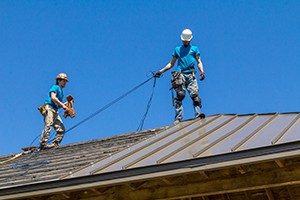 On the installation day, the crew will carefully remove all of the old roofing materials from your home. Doing so helps preserve the integrity of your new roof and prevents potential leaks from occurring. Once these materials are placed in a dumpster, they will be able to install the new parts properly. The end result will be a roof that fully protects your home from the elements and helps keep your utility costs low throughout the year.
Hauling Away Debris
Once your new roof is properly installed, the crew will remove all junk and debris from your property. They will walk the perimeter of your home to check for any roofing nails or waste that may not have made it into the dumpster. After cleaning up the remaining debris, they will schedule a time to haul the dumpster off your home.
How to Keep Your Roofing Project on Budget
Want to make sure you complete your roof replacement within your budget? Consider the following tips:
Avoid last minute changes. Change orders can affect not only the project's timeline, but also its overall cost. They're sometimes inevitable, but try to avoid them as much as possible.
Prepare a buffer. Experienced roofers would attest that budgeting with contingencies is a crucial part of any roofing project. Ideally, you must set aside at least 20% of your total funds for any additional or emergency work needed.
Pay in installments. If possible, take out an interest-free loan to make your upgrade more manageable. Not only will it break your expenses into smaller payments, it can also give you access to a wider range of products.
Part 3: After the Roof Replacement
After your new roof has been installed, it's now time to check if there are things that may have been overlooked during the installation process.
How to Know if Your Roof is Installed Correctly
Having your old roof replaced comes with the reassurance that you no longer have to deal with unexpected leaks and other issues. However, there are times where the roofer may fail to provide quality services, resulting in installation failure.
As a homeowner, it's important to know the basics of inspecting the output to know if your new roof is installed properly. Together with your roofer, be sure to inspect the following:
Roofing Alignment – One of the most obvious signs of a bad installation job is poor shingle alignment. Not only do unsymmetrical shingles decrease your home's aesthetic appeal, but they also let water seep in between cracks and ruin the sheathing underneath. Make sure that the shingles are applied evenly across all areas of the roof.
Use of Nails – The nails used must be corrosion-resistant, to keep your roof free of rust for a long time. Also, check for overdriven nails, or those that are driven too deep into the shingles. These imply that too much pressure was exerted when fastening the shingles in place.
Shingle Overhang – If a drip edge is installed, shingle ends should only overhang off your system between 0.5 and 0.75 inches. Too little overhang allows moisture to seep through the fascia boards, while too much makes the shingles prone to sagging and cracking.
Effective Ways to Maintain Your Roof
Now that you have a new roof, it's paramount that you take care of it as much as possible. Doing simple maintenance tasks not only helps you catch a problem in its early stages, it also helps prevent damage from ever occurring.
Here are some ways you can help your roof live a long and healthy life.
Keep your gutters clean. Clogged gutters can overflow with so many leaves, twigs, and debris that the rain washes up instead of down. Be sure to clean it frequently or install quality gutter guards to prevent clogs.
Trim branches. Powerful storms can whip branches around or pull them from the tree completely, causing damage to your roof if trees are near your structure. Have them trimmed before the storm season sets in.
Ensure adequate insulation. Fitting your attic and roof space with proper insulation will help prevent damaging ice dams, save you on energy costs, and keep your home at a comfortable temperature.
Schedule regular inspections. Want your roof to last for as long as possible? The key is to schedule professional inspections once or twice a year, or after severe storms.
Work With the Leading Local Roofer
Ready to take the leap and start planning your roof replacement project? We can help. With over 25 years in the business servicing South Carolina, North Carolina, and Georgia residents, we have a deep-seated commitment to the community where we live. Aside from roof replacement, we also offer a range of other roofing services, including roof repairs and insurance claims assistance.
Call us today at (803) 699-5106 or fill out our online form to schedule a roofing estimate.