Metal has slowly but surely gained traction as a roofing material, not just for commercial structures, but for residential properties, as well. Metal roofing systems used to be seen only as industrial-looking, but modern designs have become interesting for many homeowners today. Many local roofing companies focus on installing only metal roofs, while others have expanded their business to include metal as one of their primary material offerings.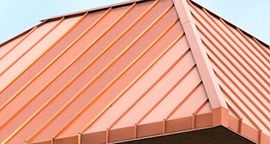 One of the most popular types of metal roofing styles today is standing seam. First and foremost, know that standing seam is more expensive to install than the traditional asphalt shingle roofing. So how come most roofers recommend this type of roofing to homeowners? The answer — standing seam metal roofing is highly cost-effective. International Construction Services, Inc., the premier metal roofer in the region, shares what you need to know about this type of roofing system.
What is Standing Seam Metal Roofing?
Standing seam metal roofing is a type of metal roof that is made up of large metal panels. This roofing type is generally known for equally spaced parallel ridges that run along its surface. Adjacent metal panels are joined by overlapping these ridges, hence its name "standing seam.". These seams are hidden so that the only visible part is a smooth and uninterrupted ridge from top to bottom. Because of their clean and elegant appearance, standing seam metal roofs cost higher than most materials. It may cost between $18,000 and $40,000, for a national average price of $29,000.
Why Is It Cost-Effective?
Some homeowners get intimidated by the initial price of standing seam metal roofs, not knowing that it can save them more money than asphalt shingle or a regular metal roof in the long run. Here's what makes them cost-effective:
Low upkeep. Unlike their other counterparts, standing seam metal roofs don't require so much roofing maintenance. They are fire- and rot-resistant, so you won't have to worry about frequently inspecting them for damage.
Longevity. With a standing seam metal roof, you can easily save up more than double the cost of replacing an asphalt shingle roof. These roofs use clips underneath the panels instead of the hundreds of exposed screws used to fasten other roofing options. This means your standing seam metal roof is a lot less likely to develop leaks due to screws, even when you consider the expansion and contraction of the material due to temperature fluctuations.
Energy efficiency. You can also save money on utility expenses because contrary to what others might believe, standing seam metal roofs don't attract heat — they reflect it. To make sure your roof achieves the highest level of efficiency, it's important to talk to a professional roofer, as some color options might be more reflective than others.
If you're searching for "local roofers near me", you don't have to look farther. Count on International Construction Services, Inc. for more information about how standing seam metal roofing is a smart and cost-effective option for your home. We'll be with you through every step — from planning to installation and even beyond that. To get a FREE estimate, call us at (803) 699-5106 or complete our contact form today.