The roof installed on your commercial structure is responsible for protecting everyone and everything inside the building, from your employees and tenants to each and every structural component. Roof leaks can eventually result in rots and mold, which then lead to broken equipment, damaged furnishings, as well as health and safety hazards. That said, it's important to make sure your commercial roof is always in tip-top shape. If not, consider investing in a new system right away.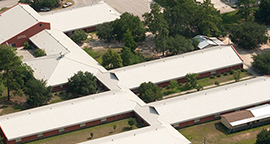 If you do decide to install a new commercial roofing system, be sure to plan ahead accordingly to avoid the mistakes building owners often make with their roofs, such as:
Prioritizing price over value. When it comes to commercial roofs, it's crucial to look for both quality and value — not just the cheapest quote. Great value isn't about a low price tag. It's about getting the best quality of work at the best price possible. Professional roofing contractors are extensively trained, and their time doesn't come cheaply. At the same time, roofing materials are a fixed cost. When that cost is remarkably lower than other estimates, it's important to be absolutely sure that the materials are the right standard for your upgrade.
Choosing the wrong material. Choosing an inappropriate material can mean your system won't last very long. In some cases, it could even harm your substrate. In order to get the most out of your commercial roofing investment, you need to ensure that the roofing materials are suitable for the roof, taking into consideration the pitch, the integrity of your building's foundation, and the geographical conditions. Don't hesitate to consult your trusted roofing company to help you in the selection process.
Ignoring safety precautions. This one goes hand in hand with hiring a reputable roofer. Choosing a bad contractor isn't just possibly expensive because the work may need to be redone later — it can also be downright dangerous for you and everyone else in the building. By going for a certified and experienced roofer, you can rest easy knowing they will follow the correct safety procedures, reducing the chances of injury on your property. This also means that you are keeping employees and contractors safe, therefore preventing costly injury claims.
Hiring a roofer without commercial experience. Isn't a roof just a roof, regardless if the property is commercial or not? Not really. Reliable roofing contractors, such as International Construction Services, Inc., are able to deliver services for both commercial and residential properties — a testament of the years spent training and honing their craft. Installing commercial roofs requires a specific skill set, though, so your average residential roofer may not be a reasonable choice. For the best results, make sure your roofer is experienced and trained in commercial roofing.
International Construction Services, Inc. proudly offers commercial and residential roofing services in the local region, with specialties ranging from roof replacement and inspections to emergency roofing repair and routine maintenance. By working with us, you can take advantage of high-quality work at a reasonable rate, with a fully trained and certified roofing team.
Ready to install a new commercial roofing system? Give us a call at (803) 699-5106 or fill out our form today, and our specialists will be ready to assist you.