Snowfall in South and North Carolina, as well as in Georgia, may not be as excessive compared to states in the Northern region, but it doesn't mean local homeowners have it easy during winter. You may not be worrying too much about snow, but you have to think about freezing rain and ice dams. The cold temperatures can also make your interior chilly and uncomfortable.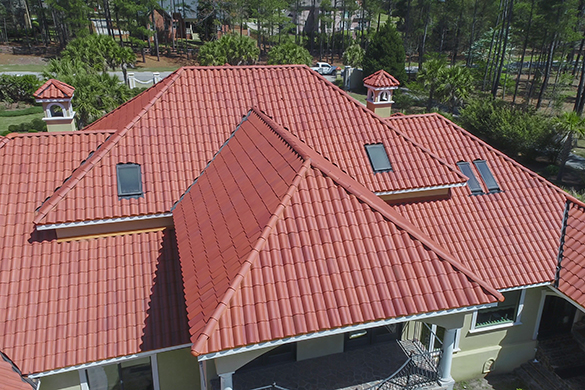 You've likely heard that metal roofs are great at keeping structures cool in the summer and cutting back on those high utility bills. But did you know that metal roofs can also help keep you cozy and warm during cold months? Learn about this and other advantages of having a metal roof during winter in this article from one of the trusted roofing companies in South Carolina, International Construction Services, Inc.
Metal roofs keep your home warm in winter. According to a study by the U.S. Department of Energy, the surface of metal roofing will remain within five degrees of the average asphalt shingle roof, even during the coldest temperatures. Most metal roofs tend to be a few degrees warmer than other roofing types during the day and a few degrees colder during nighttime. This surface temperature, though, does not negatively impact your indoor temperature. In fact, metal roofs keep the air warmer by an average of fifteen degrees compared with conventional asphalt shingle roofing.
Metal roofs can help you save on utility costs. A metal roof that undergoes proper design and roof installation process can easily create a thermal barrier around your structure, minimizing heat loss while enhancing your home's energy efficiency. In addition, the thermal barrier it creates can regulate the temperature on your roof, preventing ice dams from forming and damaging your system. As a result, you save a significant amount of money on both your home's heating costs and gutter maintenance for the season.
Metal roofs can shed snow. As winter continues, snow can accumulate on your roof, no matter how small the amount is compared with other regions. On a typical material, you'll have to worry about snow loads and the leaks they can cause. With a metal roof, however, that should not be a concern. Not only are its panels tightly seamed together to prevent leaks, but they can also shed snow on their own once the temperatures start to rise above freezing.
Metal roofs are lighter in weight. Timing is a crucial part of roof installation during cold days. If you were to switch from asphalt shingles to heavier roofing types such as slate or tile, the installation timeframe can be longer. This is because the supporting structure may need extra reinforcement to carry the new roof. In contrast, metal roofs are much lighter, which means, roofers can easily load them into their vehicles and install them properly on the existing roof structure without too much hassle.
International Construction Services, Inc. is the leading roofing contractor in the South Atlantic region. If you need a new metal roof this winter season, we can provide you with FREE roofing estimates in Columbia and the nearby areas. Simply call us at (803) 699-5106 or fill out our form to get started.