If you're in the market for a new house in Columbia or if you're interested in boosting the curb appeal of your home in Greenville, you may be torn between using stone or brick masonry for your exterior. Similarly, if you are planning to upgrade your fireplace or wanting to add an accent wall to enhance your home's appearance, you're probably looking into all of your stone options.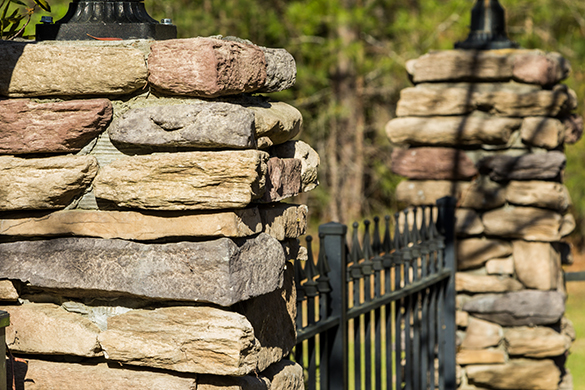 Stone and brick are popular materials that have spanned the test of time, proving themselves enduring and long-lasting. In addition, both of them are fire-proof and weather-resistant. Stones are always going to be less uniform in shape and size than bricks, which are made from perfectly shaped molds.
if you're going to pick between the two, however, most experts would probably recommend stone. International Construction Services, Inc., one of the top masonry and roofing contractors in the region, shares a few reasons why.
Stone is incredibly strong. While brick is known for its durability, nothing will ever beat the innate strength of natural stone. Stone masonry has been used throughout history and can still be seen in buildings new and old, and in the great castles and churches of the past. Some of the world's oldest and most popular structures are made from stone. For example, Ireland's landscape is dotted in stone buildings that date back over 5,000 years and are still standing strong today. Even the famous Taj Mahal in India is a work of stone masonry.
Stone adds character to any home. Quality bricks can add style and beauty to homes, thanks to their regular, even shape. At times, though, their style may appear too monotonous. On the other hand, well-textured stones can come in similar shapes and sizes, but most of the time, they are installed unevenly, creating a unique and artistic look at the home's exterior. Over the years, their appearance may turn even more beautiful due to natural surface polishing, complementing various types of roofs, from asphalt shingles and clay to slate and contemporary metal roof.
Stone is more resilient than bricks. Brick masonry work must not be exposed to sewage, urine, moisture, and other harmful chemicals, without proper protection. Or else, the material might turn drab and weaken extensively. Stone masonry work is more resilient in this regard. Due to its natural stone properties, stone masonry can resist almost any type of elements, such as hail, snow, and rain.
Stone is environmentally friendly. Many bricks still end up somewhere in the landfills. With stone, you can rest easy knowing come naturally from the earth and can generally be removed without creating excessive damage to the environment.
Without a doubt, stone and brick are both excellent masonry materials. However, it can be ultimately concluded that, in general, stone is the better material. It is more durable, longer-lasting, and about the same price, potentially even cheaper — depending on the stone material to use and who will install it. Beauty lies in the eye of the beholder, but it is certainly more difficult to deny that a stone surface is appealing and effective.
If you need help installing stone masonry or replacing damaged shingles, you can always consult our experts at International Construction Services, Inc. Get started by calling us at (803) 699-5106 or by filling out our form. We look forward to working with you!