Choosing from a long list of potential roofing contractors is a part of the process when you decide to get roof maintenance, repairs, and replacement. As a homeowner, you are likely to go through this challenging task of contractor hunting at least once. To avoid significant problems as much as possible, it's important to choose a reputable and experienced roofer, not just somebody who promises to offer you the lowest bid. You can research online, ask your friends and family, or get recommendations from local business associations. The important thing is to choose a roofer you can trust and one you're comfortable with.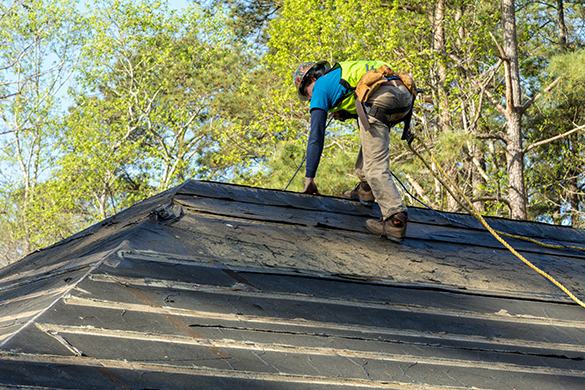 While this task can be overwhelming, it helps to be aware of what a prospective roofer has to say upon meeting them. There are some things you don't want to hear from a contractor that might indicate that they're unfit for your needs. International Construction Services, Inc., the leading metal roof company in the region, shares some of them here.
"I Don't Have a Certificate of Insurance"
While some states do not require licensing for roofers to operate, the fact remains that they must have valid worker's compensation and liability insurance, so clients won't be held responsible if one of their installers gets into an accident or causes property damage while doing repairs. Be sure to ask for a certificate proving that they are bonded and insured. If they can't provide one, take it as a red flag and look elsewhere for a Columbia roofer that offers such benefits on top of other requirements.
"I Can Do the Inspection in Less Than an Hour"
Even if the contractor seems to be nice and professional, remember to always be cautious and vigilant. Any roofer who insists they can complete an inspection in less than an hour probably isn't doing the right assessment that's necessary to find even the smallest signs of wear and damage. They should run in-depth inspections of each layer of the roofing system and present a report to you stating deficiencies and recommendations.
"We Need to Replace Your Roof Right Now"
If your roof is old and has faced many issues in the past, you might not want to hear this from your roofer but it's something you have to face eventually. However, if your metal roof in Columbia, SC, is fairly new or doesn't seem to be in poor shape, your roofing contractor has no business suggesting a complete roof replacement job. If they tell you it's the best course of action instead of repairing it due to small issues they presented, you have every right to get another opinion from another roofer.

Don't settle for substandard work on your home's roofing system. One misinformed decision can easily turn your dream upgrade upside down. Turn to International Construction Services, Inc. for the most reliable local roofing services, including roof repairs, replacements, and storm damage assistance. If you wish to get a FREE estimate, simply give us a call at (803) 699-5106 or complete our contact form. We look forward to working with you!