Deciding to repair or replace your roofing in Columbia, SC, is a big investment. For one, it is the primary exterior system responsible for keeping your home and valuables safe from harsh weather conditions, such as extreme heat, high winds, strong storms, and sharp-hitting hail.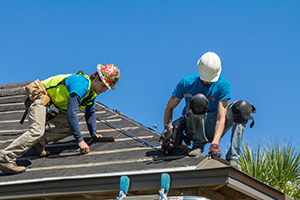 While finding the most durable and energy-efficient materials is key to a high-performance roofing system, it is also important to hire an experienced and skilled residential roofing contractor to install your new roof. Fortunately, organizations like the Better Business Bureau® (BBB) can help you accomplish this task. In general, roofing companies rated A+ by the BBB are proven to provide top-notch products and services, making them your best choice for your upgrade.
International Construction Services, Inc., one of the leading providers of professional roofing services in the area, shares what you need to know about an A+ rating from the BBB.
The BBB Rating System
The BBB gives ratings that are based on different factors to businesses in almost all industries, including roofing companies. It is an effort to help customers pick the best roofers to handle and complete their home improvement projects. In order for roofing contractors to obtain a consistent A+ rating — which is the highest grade given by the BBB — they must provide excellent customer service, high-quality products, and reliable workmanship.
The rating is primarily based on years of experience and building a reputation with the local community. That means if your hire a roofing company with a BBB Accreditation and an A+ rating, you can rest easy knowing your roofing upgrade is being handled by experts.
What You'll Get From a Roofer With an A+ Rating
Found a roofing company with an A+ rating from the BBB? You're on the right track! Here are some of the advantages you'll get:
A qualified installation team – The number of years in business and competency licensing are some of the key metrics the BBB uses to measure a roofer's proficiency, so they can score the company properly. As such, earning an A+ rating means that a roofer has been in the business long enough to master their craft and carry out projects with little to no mistakes. Working with a licensed and professional roofer comes with numerous benefits, including permit application assistance and state-backed dispute resolution.
Work integrity – Integrity, or the lack thereof, can greatly influence the rating of a BBB-accredited contractor. Any negative feedback from a customer could turn an A+ rating into an F, so rule-abiding contractors never dare to mislead or scam their customers. If you choose a roofer with an A+ rating, you can rest assured that you are safe from any notorious job. Every claim the contractor makes depends on honesty and reliability.
Constant contractor presence – In case of a dispute, an A+-rated roofer will never leave you hanging. The BBB puts a premium on every aspect of complaint resolution, which is why companies who leave their customers high and dry, and never resolve issues don't often get a rating higher than D.
If you're on the lookout for a reliable local roofer with an A+ rating from the BBB, look no further than International Construction Services, Inc. We can give your home the service and materials it deserves. To get a FREE roofing estimate, call us at (803) 699-5106 or complete our contact form today.