The shift towards green and sustainable living isn't just a short-lived trend. Enhancing your home's energy efficiency and reducing its overall carbon footprint has significant benefits in your daily life, like lower utility costs and providing better indoor comfort.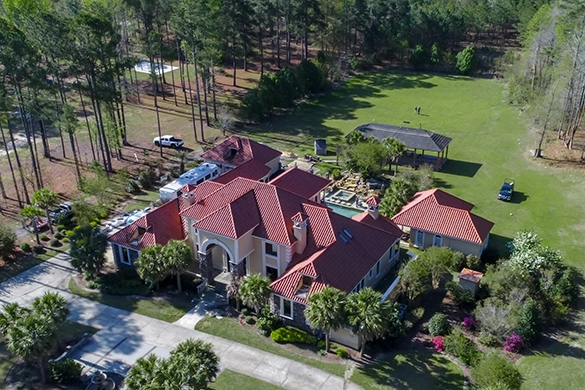 If you're considering going green, it's smart to start with your roof, which is your home's first line of defense against the elements. There are several energy-efficient roofing options, but metal roofing arguably offers the most practical benefits for homeowners. International Construction Services, Inc., the leading roofing company in Columbia and the surrounding areas, shares some of the things that make metal one of the best green roofing options for homes today.
Metal Roofs Reflect Harmful Sun Rays
Metal roofs effectively minimize energy consumption, thanks to their high reflectivity rate and thermal emittance. Their metal panels reflect the sun's harmful rays and retain less heat energy than many other roofing materials. Other material options can lose from 20% to 40% of their reflectivity over time whereas metal roofs retain 95% of their reflectivity capacity over the roof's lifespan. These features reduce the energy required to heat and cool a home or commercial office, which is a huge sustainable advantage for property owners.
Metal Roofs are Mostly Recyclable
It has become a common practice for many homeowners to dispose of their old residential roofing systems in a landfill, adding further to the garbage that is already there and further implicating negative effects on the environment in the process. This is where different types of metal roofing become a green option — when the time comes for your metal roof to be replaced, metal recycling facilities will be more than willing to take your old roof in and repurpose it for various other uses. This keeps your metal roof from winding up in a landfill and harming the environment even further.
Metal Roofs are Resistant to Fire, Rot, and Pests
Roofing experts also consider metal roofing as a green roofing option due to the inherent fire, rot and pest resistance that it has. This means that if you live in an area that's prone to wildfires, and you have a metal roof, there's a high chance that your metal roof can stay intact. In addition, thanks to its pest and rot resistance, your roof can last longer before requiring a replacement, once again letting you avoid contributing to landfills that can damage the environment.
Metal Roofs are Strong and Long-Lasting
Metal roofs are replaced less than other materials because of the impermeability of thor metal panels. The Metal Roofing Alliance says that a metal roof can last between 30 to 50 years, much longer than basic shingles, which average a 20-year life span. Furthermore, because metal roofing is lightweight, you can ask a professional metal roofer to install it directly over a shingle roof, keeping those shingles out of landfills.
By choosing to install metal roofing, you can take a proactive approach toward living green. You'll be making a smart and environmentally conscious decision with this roofing option. To get a free roofing quote from our metal roofing experts, give us a call at (803) 699-5106. You can also fill out our contact form. We'll be ready to assist you.