When was the last time you replaced your home's roof? While getting a new roof may not be the most interesting way to spend your time, chances are, if you can't recall the last time you had your roof replaced or installed, it may be time for a new one. When choosing the right material, you have to consider a lot of different factors. Of course, aesthetics is a must, but it's also wise to consider the less-exciting aspects, such as your budget and how long you plan on staying in your home.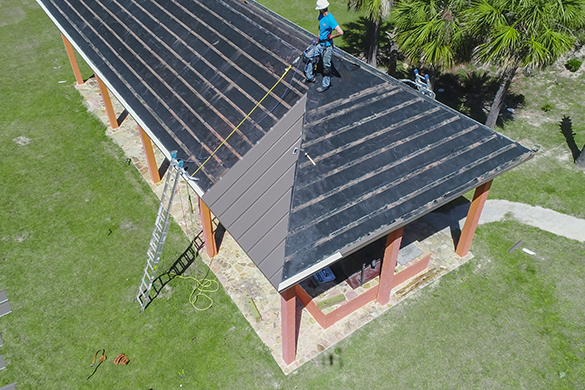 It's also important to consider whether you're replacing the roof of an existing home or you're installing the original roof of a new home. If you're starting from scratch, it's much easier to select a material because there aren't any limitations on your choices. Deciding on a replacement roof for an existing home, however, can be trickier, as you have to consider the current pitch, materials, and other factors. Nonetheless, whether you're after something stylish, something energy-efficient, or something with longevity — or a mix of all three — there's a roofing material out there that can fit your South Carolina, North Carolina, or Georgia home.
International Construction Services, Inc., one of the top roof repair contractors in the region, shares everything you need to know about the four best roof materials for your local home: asphalt shingles, metal, wood shakes, and tile.
#1: Asphalt Shingles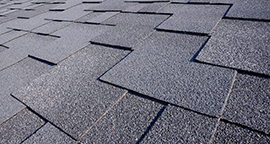 One of the most common roofing materials across the country, asphalt shingles have been protecting American homes for over a century. Homeowners love them mainly because of their durability, design versatility, and cost-effectiveness. They are typical components of new roof installations and replacements, but have you ever wondered what they are made of?
Components of Asphalt Shingles
The truth is, the shingles you're using now aren't exactly the same as the ones used back in the day. Before, asphalt shingles had a core layer of organic materials, such as wood shavings and waste paper. They had more asphalt than today's fiberglass composition shingles do, but they were also more at risk of fire. Because of this, homeowners sought for other alternative materials for their roofs.
With the introduction of fiberglass composite shingles, more and more homeowners began transitioning back to asphalt shingles. Today's asphalt shingles still have asphalt as the basic ingredient, but there are more mixtures of fiberglass in each layer to make them more durable and safe. When compared to older materials, they have 40% less asphalt.
Why an Asphalt Shingles Is a Good Choice
Asphalt shingles offer beautiful, affordable, and robust roofing solutions. They are very popular among homeowners because of the following benefits:
Aesthetics — Asphalt shingles are available in a wide range of colors to complement the style and theme of any home. You can also choose asphalt roofing that mimics other roofing styles, such as slate, cedar, or wood roofing. At the same time, you have the option to choose a flat, uniform look with rectangular shingles or create a 3D effect by overlapping them. Natural, rough-edged shingles are also a common design application for this type of material.
Cost-Effectiveness — Asphalt shingles are a cost-effective choice for homeowners who are upgrading their roof but don't want to break the bank. However, while they are less expensive than other options, that doesn't mean they are inferior in performance. When maintained properly, asphalt shingle roofing can protect your home for 25 years or more.
Sustainability — Asphalt shingles are also among the most eco-friendly materials you can use for your roof. They are recyclable, which means their asphalt content can be used in paving streets and highways. Because of this, most asphalt shingles don't end up in landfills.
Home Styles That Complement Asphalt Shingles
South Carolina, North Carolina, and Georgia homes are known for their beautiful mix of architectural designs. Here are some of the local home styles that go well with asphalt shingle roofs:
Victorian — These homes depict an alluring combination of elegance and royalty. The already-decorative trim of Victorian homes and the simple appearance of asphalt shingle roofing make for a perfectly balanced design, creating a stunning look from the outside.
Craftsman — Its simple yet sophisticated style makes a Craftsman house one of the most loved home styles all over the country. Together with the natural, rustic appeal of asphalt shingles, Craftsman homes can look great no matter the season.
Colonial Revival — This bungalow-type home often has a wide front porch, tapered columns, and pitched roofs. Asphalt shingle roofing matches them excellently due to their oversized, yet simple and rugged look.
#2: Metal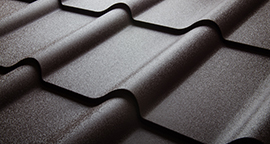 Over the years, metal roofing has consistently grown in popularity among American homeowners. Not only is it sleek-looking and robust; it also proves to be one of the most energy-efficient options on the market nowadays. If you're on the fence about installing a metal roof, your trusted roofing and construction company shares some of the best things you need to know about it.
Top Metal Roofing Materials
Metal roofing is actually manufactured from a variety of materials, including steel, aluminum, copper, and standing seam. Each one of these has distinct differences that influence their durability, appearance, efficiency, and more.
Steel Roofing — Most metal roofs are made from steel, which is heavier and sturdier than aluminum . The gauge of the steel plays a key role in its durability and weather performance. Steel roofing comes in numerous gauges; thinner gauges are often cheaper and used for low-end corrugated metal roof panels.
Aluminum — Compared with steel, aluminum is lighter and relatively softer. On the plus side, it doesn't corrode easily, making it a good choice for homes near coastal areas.
Copper — Used for over a century, copper roofs are guaranteed not to rust and have no "finish" to scratch or peel. It also adds a clean, warm look to a home's exterior, thanks to its burnished red-gold color. A copper roof is likely to outlive the house it covers, with a tendency to last hundreds of years.
Standing Seam — Standing seam roofs are known for their superior weather performance. They have sealed, raised ribs along the panel edges that interlock to create a tight seal, effectively preventing the entrance of moisture. Additionally, they come in numerous styles and colors that complement virtually any siding and home style.
Why Install a Metal Roof
Metal roofs are no longer just a commercial roofing option. Thanks to new technologies, they are now available in a wide plethora of designs to match any type of structure and are equipped with the right features to improve your home. Here are some of their benefits:
They are highly durable. Metal roofs are impervious to the common menaces that tend to damage other materials, such as fire, insect damage, debris, and rot. Due to their innate metal composition that is extremely robust, they can protect homes from the wrath of weather and other challenges Mother Nature might bring.
They are energy-efficient. Some people mistakenly think that installing metal roofs leads to uncomfortable indoor temperatures. The truth is, a metal roof will reflect the majority of solar radiant heat, so it actually helps reduce your cooling costs, even by as much as 25%. You can also boost its solar reflectivity even better by applying a granular or shiny coat on a metal roof.
They are environment-friendly. As with asphalt shingles, metal roofs are often produced using recycled materials. When your metal roof needs to be replaced, the old material is guaranteed to be 100% recyclable.
#3: Wood Shakes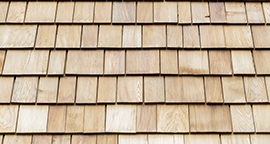 Wood shakes are materials sourced from cedar or some other wood type that is suitable to act as a covering. Although there are many different types of shingles available on the market today, including asphalt shingles, plenty of homeowners still prefer the look and feel of classic, rustic wood shake shingles.
There's a special quality of aesthetics to wood shakes that just can't be matched by other materials, especially for homes and commercial structures with traditional architectural styles. Of course, there's also the fact that a properly installed and maintained wood shake roof will last you anywhere from 15 to 40 years.
Unique Benefits of Wood Shake Shingles
There are several reasons why property owners often choose to install a wood shake roof, including:
Energy efficiency – Wood shakes can be a fantastic investment over time because they have what it takes to increase a home's energy efficiency. As one of the best insulators among other material types, they help keep a home's interior warm and cozy during the winter and reflect unnecessary heat during the summer.
Environmental friendliness – If you're all for eco-friendliness and sustainable living, you'll be happy to know that wood shakes exceed almost every other type of shingles when it comes to sustainability, recyclability, and energy savings.
Appearance – The truth is, wood shakes just may be one of the most charming and beautiful roofing materials you can find. For many, all it takes is a single look at a wood shake roof to be hooked. Their natural rustic appearance is unrivaled when it comes to sprucing up your home's aesthetics.
Home value boost – Along with boosting your home's resale value, wood shakes offer a nice first impression when potential home buyers arrive at your house. And as we all know, first impressions are everything, especially when you're putting your property up on the market.
Maintaining a Wood Shake Roof
Lingering moisture is among the biggest threats to a wood shake roof. That said, keeping your roof clear of any debris is essential to helping it last a long time. Leaves, twigs, and anything else that holds moisture needs to be removed as soon as possible. Additionally, you'll need to trim tree branches that are shading your roof, as they will prevent it from drying out as quickly as it can. Keeping your gutters clog-free will serve the same purpose, and is also just as essential.
#4: Tile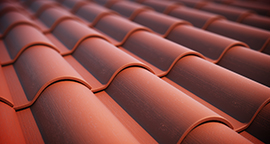 A tile roofing system is made up of intersecting roof tiles attached securely to a solid deck on a pitched roof. Due to the complexity of the installation process, tile roofing requires a contractor who is highly skilled and experienced in working with roof tiles of various materials and shapes. Tile roofs are installed on a wide array of residential, commercial, and historical properties — from restaurants and hotels to museums and churches.
What Are Tile Roofs Made From?
One of the oldest roofing materials known, tile roofs have been around since as early as 10,000 B.C when clay tiles were used for roofing in China. Later on, the practice spread to the Middle East and expanded to other parts of the world.
Tile roofs are primarily made from a variety of materials, including fired clay or terracotta products, ceramic, and slate. Thanks to today's technology advancements, manufacturers are now able to produce tile roofs from even more materials such as metal, tinted concrete, bitumen, and polymer sand.
Common Types of Tile Roofing
Roof tiles are available in numerous types, colors, sizes, and shapes. They mainly differ in appearance, weight, durability, and cost. Some of the most common types of tile roofing you may see on the market are the following:
Slate and stone tiles
Metal tiles
Concrete tiles
Composite tiles
Clay tiles
Copper tiles
Polymer sand tiles
Solar tiles
Reasons to Install a Tile Roof
Here are some of the most notable benefits tile roofing can bring to your home:
Superior durability – Tile roofs are naturally strong and robust, as proven by old buildings roofed with tiles that have stood the test of time. Clay and concrete tiles, in particular, are known to withstand hail storms and high winds. Terracotta tiles, on the other hand, get stronger with age and are far stronger than concrete tiles.
Fire resistance – Unlike other materials, tile roofs are absolutely non-combustible. In fact, clay and concrete tiles have the highest fire-retardant rating, making them the best option in regions that are prone to bushfires. The majority of tiles in the market carry a Class A fire-resistant rating, both as a product and a tile roofing system.
Energy savings – The gaps under the tiles create natural ventilation that fend off heat transfer, which minimizes the need for cooling and ultimately saves energy. Tile roofing helps homeowners enjoy a cool house in the summer heat and a cozy home in the winter.
So, Which Roofing Material Should You Choose?
In making your decision on a roofing material, keep in mind the factors you must consider, such as your home's architectural style, the local climate, and how long you plan on staying in your home. If you need professional advice on what type of material to install, you can always consult the experts at International Construction Services, Inc.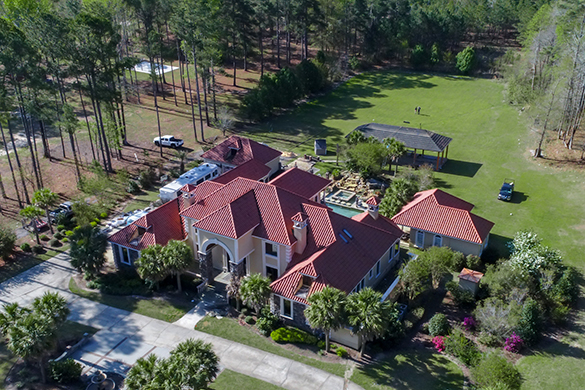 Our specialists have been serving local homeowners for over 20 years, so you can have peace of mind knowing your project is in good hands. We are your trusted experts for all things roofing — from repairs and replacements to insurance claims assistance. To schedule a consultation and estimate, give us a call at (803) 699-5106 or fill out our form today.