For many years, GAF® shingles have remained the number one selling shingles in America — for numerous good reasons. From their innate durability to their impressive aesthetics, homeowners love the wide variety of GAF roofing products. But making the most out of GAF shingles is more than just buying the product and having it installed. It also comes down to the experience and expertise of the contractor you hire for the job.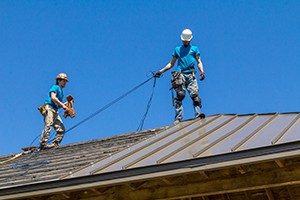 In fact, when you're looking for the best roofing companies to install GAF products, there is a significant difference between just any roofer and a contractor certified by GAF itself. International Construction Services, Inc. has been a GAF factory-certified contractor since 2008, so we know just how important this recognition can be to homeowners planning to make the best upgrades for their roofing systems.
What Does It Mean to be a GAF Factory-Certified Roofer?
In a nutshell, GAF factory-certified roofers are executively trained in the installation of GAF roofing systems. They are taught to understand the products and proper installation procedures in-depth to ensure all GAF systems that they install — from new construction roofing to replacement systems — will perform their best and last for many years. To maintain this status, roofing contractors undergo continuous training so that they remain up-to-date on the product types and the installation process.
GAF also requires that all contractors seeking this status are:
Properly licensed if the state they operate in requires it
Fully insured with $1M liability insurance and worker's compensation insurance
With a proven track record and has a good standing with the Better Business Bureau (BBB)
Committed to continuous training on the latest GAF technology and practices
It's a high bar to meet, which is why there are only a handful of GAF factory-certified contractors out there. In fact, according to GAF, only 7% of roofers in North America are invited to become certified, stating on their website: "It can't be bought. It can only be earned."
Benefits of Hiring a GAF Factory-Certified Contractor
With the dedication, skill, and expertise GAF requires of its roofing contractors, here are some of the benefits you get to enjoy as a homeowner when you hire a GAF factory-certified roofer.
High-performance and durable roofing – GAF shingles are known to be durable as they are beautiful, but they are just one part of the entire roofing system. When you install an entire array of GAF roofing products, your home will surely offer top-tier protection from weather-related damage.
Extensive warranties – GAF roofs come with a default out-of-the-box warranty that covers the shingles for 10 years and the workmanship for 5 years. But when you hire a trained GAF professional, you become eligible for higher-end warranties, such as the WindProven™ and System Plus warranties.
Peace of mind – At International Construction Services, Inc., we install GAF products and work hard to maintain our GAF factory-certified roofing status. Our crew stays up-to-date on its practices, and we are fully licensed and insured to give you peace of mind from start to finish.
Ready to experience the GAF difference? Schedule a free consultation today with the best roofer in Columbia! To get started, simply call us at (803) 699-5106 or fill out our contact form.