You may have heard about the growing popularity of residential metal roofing, but did you know that metal roof panels were originally used as protection for large industrial structures? For most of the 20th century, and to some extent even to this day, when metal roofing is the topic of discussion, images of long, dull but durable gray or bare metal panels come to mind. They were installed mostly on warehouses, barns, and huge buildings and were rarely seen on residential properties.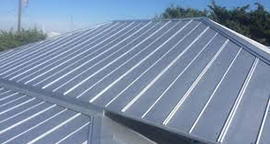 All of that changed when manufacturers began producing metal roofs using different types of metals — in a wide range of colors, styles, and textures. Metal roofs today are no longer "bland" or "boring", as more and more homeowners are utilizing metal's versatile aesthetics to dress their homes. Still metal roofs remain durable, efficient, and reliable, making them still one of the best commercial roofing options. In this blog, International Construction Services, Inc. explains why metal roofs remain an excellent choice for commercial applications.
Energy Efficiency
Due to their reflective surface, metal roofing systems reflect a much higher amount of rays from the sun than most roofing alternatives. As such, surface temperatures can be lowered by up to 100°F and will therefore dramatically reduce the amount of heat that goes into a building. Commercial offices already spend a significant amount on cooling costs, and their energy usage is generally quite high. With metal roofing installed, you can significantly cut cooling costs for your business — sometimes by 20% or even 40% in some cases. This means your company will be saving a lot of money that can be used elsewhere.
Fire Resistance
Unlike other roofing materials, metal roofing is highly fire-resistant. This is often an attractive feature for commercial building owners who want to make sure their tenants and customers are safe from any hazards. If you operate a commercial or industrial structure where there's an increased risk of fire, choosing metal roofing for your building can put your mind at ease.
Weather Protection
Metal roofs are much more durable than other options, particularly when it comes to offering protection against inclement weather conditions. Thanks to their sturdy built and materials, metal roofs will most likely keep all the water out and won't fall victim to warping or rotting due to excessive moisture. Even if it suffers minor damage from hail, it's easy to replace a few panels here and there.
Easy Upkeep
No business owner wants to deal with a lot of building upkeep. This is one of the best reasons why metal is perfect for commercial applications — they are very easy to maintain. Aside from getting a roof inspection performed twice a year, you won't have to do much else. Metal roofs last up to 50 years or more if they're well-maintained, so as long as you don't have a lot of damage or debris from surrounding trees and structures, you can have absolute peace of mind.

Looking for the best metal roofer in the area? Look no further than International Construction Services, Inc. Schedule a FREE consultation with our experts by calling us at (803) 699-5106 or by filling out our contact form today.